Football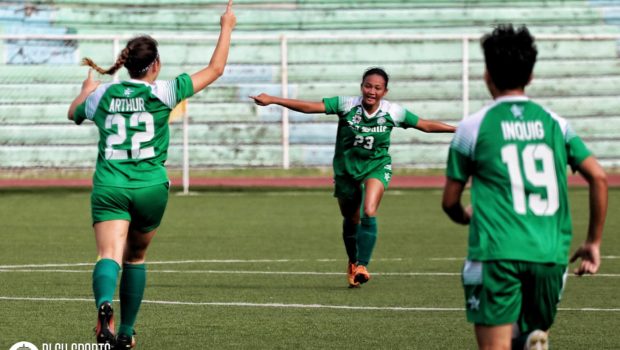 Published on March 15th, 2018 | by Dara Evangelista
0
DLSU Lady Booters bounce back with win over UP Fighting Lady Maroons
The De La Salle University Lady Booters defeated the University of the Philippines Fighting Lady Maroons, 1-0, on Wednesday at the Rizal Memorial Football Stadium.
In the first few minutes after kickoff, dominant performances from both La Salle and UP were on display. A corner kick was given to UP's Bling Perez but luckily, our very own Nicole Andaya headed the ball away. Numerous attempts from skipper Kyra Dimaandal and the rest of the La Salle squad were fired but none could get pass UP's tough defense. There were a number of close calls for La Salle. Fortunately, the great wall of Tashka Lacson was there. On the 45th+2 minute, Lady Maroon Cristina Delos Reyes received the ball and dribbled swiftly past La Salle's defense. It was a one-on-one against the keeper. She took the shot but it went straight to Lacson. Seconds later, a Lady Maroon fired another ball to the goal, but La Salle's defense was impenetrable. The first half ended with tired girls and null scores.
During half time, head coach Hans Smit had the team sit down for a meeting. Dimaandal shared that he told them they weren't playing to their standards.
"Coach was telling us that we weren't playing the way we should. He pointed out our mistakes and how bad we played, made us realize we could do more."
The Lady Booters adjusted themselves and made the second half more fruitful for La Salle. A goal was bound to come as La Salle was presented with bountiful opportunities in front of UP's goal. In the 56th minute, the ball was just inches away from the line but was miraculously saved by a Lady Maroon. However, Shannon Arthur served as the saving grace when she saw an opening from the outside. She scored a goal at 59' to put La Salle on the scoreboard, 1-0.
Within ten minutes after Arthur's goal, UP had attempted thrice but to no avail. First, De los Reyes nearly tied the game with a great shot that missed Lacson's hands. Unluckily for the Diliman-based squad, it hit the woodwork and bounced right back into the field. Bling Perez also tried to shoot but Lacson just would not have it. Finally, a shot from Ikeesha Aquino lobbed straight to Lacson's gloves as she demonstrated how the Lady Booters do defense.
Nearing the end of the match, several possessions were exchanged but the Lady Maroons seemed to have burned up their fuel. The Lady Booters walked away with the victory, 1-0.
With this win, Dimaandal said that team are currently pushing themselves to get the victory.
"Puso lang. We're in difficult positions because of injuries and such, but the team always had the heart to play."
The DLSU Lady Booters bounced back and improved to 5W-0D-2L. They will face the 3W-3D-1L FEU on Saturday, 9 AM at the same venue.