Lady Spikers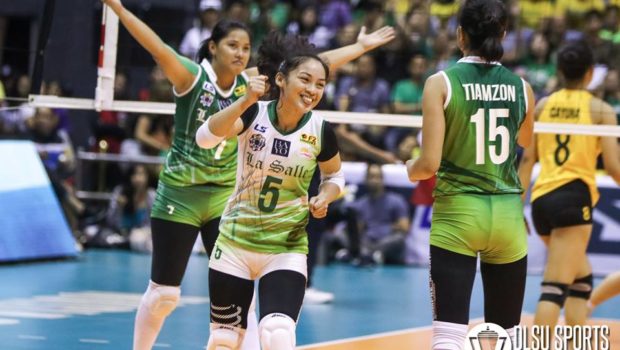 Published on May 3rd, 2018 | by Genrev Villamin
0
THREE-PEAT! DLSU Lady Spikers sweep FEU for Season 80 crown
The crown remains in Taft Avenue after the De La Salle University Lady Spikers defeated the brave Far Eastern University Lady Tamaraws, 26-24, 25-20, 26-24, on Wednesday, May 2, in front of more than 14000 fans at the Smart Araneta Coliseum.
The victory gave the school its third straight championship and 11th overall, two days after the 367th birthday of founder St. John Baptist de La Salle.
With the jam-packed crowd already up on their feet as the three-peat-seeking Lady Spikers arrived at championship point, the Lady Tamaraws just refused to give up, stringing consecutive points in a wild turn of events to erase the gap and extend the third set. The defending champions, however, were able to get back on track at a no better timing as they connected back-to-back points to cap the season with the bacon.
The Lady Tamaraws, looking to spoil an early La Salle party, jumped off to a 3-6 lead in Set 1. They extended the lead to four, 7-11, with a Heather Guino-o off-the-block hit. The Lady Spikers remained behind heading into the second technical timeout, 12-16. Subsequently, third year spiker May Luna, Best Player in Game 1, brought La Salle to within one, 18-19. But, the Lady Tamaraws were quick to counter. Graduating FEU spiker Bernadeth Pons sent her team to set point, 24-21. That forced La Salle head coach Ramil de Jesus to call a timeout. Coming off the timeout, La Salle shocked FEU with a 5-0 run to steal the set from FEU, 26-24. Kim Kianna Dy unleashed the #swag including an attack from the middle which gave them the lead, 25-24.
It was a different story in the second frame. Contrast to Set 1, La Salle maintained the momentum and rose to a 7-4 cushion over FEU. Luna hit a punishing attack that pushed the Green and White's lead to five, 12-7. Moreover, that even proved to be a spark as they strung three more points. Third year hitter Tin Tiamzon capped it with an ace to mount a 15-7 edge over the Green and Gold. FEU started to come alive midway through the set, slowly trimming their deficit to three, 17-20. But, Dy fired back-to-back markers to bring La Salle up by five, 22-17, anew. The Taft-based squad held on to win the set, 25-20, and take a commanding 2-0 lead over the Morayta-based squad.
Not wanting the third set to be their last chance, FEU toughened up on both ends. The Lady Tamaraws did not allow any pull-aways from the Lady Spikers early in Set 3. The Game 3-seeking squad answered every La Salle point as the score remained knotted at 10-all. Eventually, the Green and White regained the lead, 14-11, following a gift from middle blocker Aduke Ogunsanya. An ace from Luna gave La Salle a 21-16 lead, making them four points away from the championship. Sophomore setter Michelle Cobb fired another ace to push the Lady Spikers to championship point, 24-20.
However, just as when everybody was ready to celebrate the championship, FEU turned the tables around. Things suddenly started to get more intense. In an unexpected turn of events, action saw nerves wracking as FEU continued to hold on to the game. The Lady Tamaraws #suwagged their way to erase a four-point deficit and tie Set 3 at 24-all. But, the Lady Spikers, being the more composed team, eventually tamed the Lady Tamaraws' rally. Dy capitalized on an opening, bringing La Salle to championship point anew, 25-24. Tiamzon finally finished the match with a crosscourt from the left wing, 26-24.
Graduating Lady Spikers Kim Kianna Dy, team captain Majoy Baron, and Dawn Macandili led the team for the last time in their UAAP careers. Dy, Season 78 Finals MVP, top-scored with 19 points on 16 attacks, two blocks, and a serve. Baron, Season 78 Best Blocker and Season 79 MVP, finished with 10 points. Macandili, Season 78 Best Digger and Seasons 78 and 79 Best Receiver, tallied 21 excellent digs and eight excellent receptions. Macandili also claimed the Finals MVP award after averaging 22.5 excellent digs and 10.5 excellent receptions in the series.
On the other hand, graduating Lady Tamaraw Bernadeth Pons finished with a team-high 17 points in the losing effort. Best Blocker Celine Domingo came up next to her but with a far seven-point output.
The Lady Spikers had never tasted a defeat since losing against Adamson University way back in the first round. That was when coach Ramil de Jesus branded their lackluster as "pambarangay" level. They swept their remaining assignments in the eliminations. Finally, they made quick works of their postseason opponents to make it an 11-game winning streak.
La Salle's 11 championships still remain behind long-time UAAP member schools FEU (29) and UST (15). Nonetheless, the DLSU Lady Spikers are now 11-7 in the Finals, all under head coach Ramil de Jesus. Moreover, they clinched an unprecedented third grand slam in the Women's Division since the Final Four era. They had won their first two three-peats in Seasons 66 to 68 and 73 to 75.
Scores:
DLSU (3) 77 – Dy 19, Baron 10, Tiamzon 10, Ogunsanya 7, Luna 6, Cheng 3, Cobb 1, Barroga 0, Layug 0, Macandili 0, Tiu 0, Instrella 0, Saga 0, Ipac 0.
FEU (0) 68 – Pons 17, Domingo 7, Guino-o 6, Malabanan 6, Villareal 4, Basas 2, Carandang, 2, Cayuna 1, Negrito 1, Hernandez 0, Duremdes 0, Agudo 0, Calinawan 0, Atienza 0.