Sports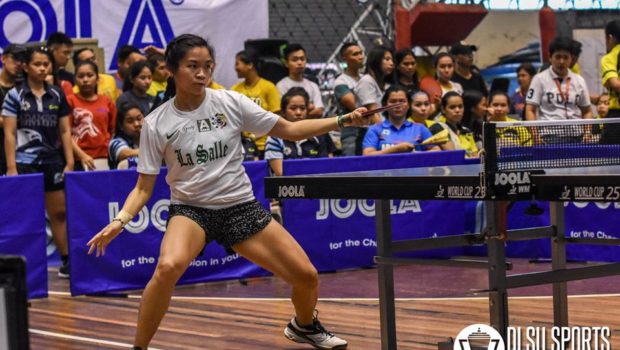 Published on October 1st, 2018 | by Genrev Villamin
0
Lady Paddlers sweep Round 1, Green Paddlers tied for third
The DLSU Lady Paddlers stayed on top of the standings after sweeping Round 1 of the Women's Division of the UAAP Season 81 Table Tennis tournament on Saturday.
On the other hand, the DLSU Green Paddlers dropped to 4-3 following back-to-back losses to UST and Adamson on Friday and Saturday, respectively, at the tail of the first round.
Lady Paddlers remain unblemished at 7-0
The Lady Paddlers asserted their dominance as the defending champions of the Women's Division with straight set victories over NU and Ateneo on Friday. Then, they capped the first round with a backbreaking thriller against UST on Saturday. With these three wins, the Lady Paddlers swept the first round of the tournament and gained a 7-0 record.
Lady Paddlers vs NU
Jannah Romero and Emy Dael were in their usual deadly forms, demolishing every opponent that came their way. NU's Sardalla and Bañares became their respective victims, with the former suffering a 1-11, 3-11, 4-11 loss against Romero. The latter absorbed an even awful 1-11, 1-11, 4-11 dismantling from Dael. In the third and eventual final match of the game, the well-established tandem of Ina Co and Kimberly Sorongon defeated NU's Castro and Ramirez in four sets. Although they lost the first set, they made it sure that NU would work hard for it, 17-15. Co and Sorongon, nonetheless, bounced back with three straight sets, 11-7, 11-7, 11-7, to seal the win.
Lady Paddlers vs Ateneo
It was Romero and Dael again who played the first two singles matches of the game. This time, against arch-rivals Ateneo, Dael played first. The former MVP made quick work of Ateneo's Dela Cruz, 11-2, 11-4, 11-8. Then, Romero picked up in the second match with yet another series of low-scoring sets, 11-1, 11-4, 11-1, versus Ateneo's Cruz. Bernaldez teamed up with Caressha Bernaldez to knock Ateneo's Calvo and Carado out, 13-11, 11-6, 6-11, 11-6, and push La Salle to 6-0.
Lady Paddlers vs UST
In the rematch of last year's finals, Romero got into a tight matchup against UST's Derecho. After taking Set 1, 12-10, she found herself trailing by one set, 1-2, following Derecho's 11-8, 11-8 wins in Sets 2 and 3, respectively. The rookie avoided a collapse and forced a decider with an 11-5 rout. She then completed the comeback after sealing Set 5, 11-7. Meanwhile, Dael continued her spectacular plays with yet another three-set win, 11-5, 11-4, 11-7, over UST's Draug. Both Dael and Romero were undefeated in all their matches through the first round, with Dael not even dropping a single set.
Up two matches to none, UST came back to even the game at 2-all. Co and Sorongon dropped their doubles match against Ronquillo and Tempiatura in five sets, 4-10, 10-12, 12-10, 11-8, 6-11. Rookie Jhoana Go also fell to UST's Gabisay, 11-8, 9-11, 11-6, 5-11, 8-11. But, it was co-captain Chantal Alberto who came to rescue the Lady Paddlers with a straight set slap over UST's Alburo, 11-9, 11-5, 13-11. La Salle's victory that moved them to 7-0 also stained UST's erstwhile likewise pristine win-loss record at 6-0.
Green Paddlers still struggling to find their groove at 4-3
While their Lady counterparts are enjoying their winning streak, the Green Paddlers are still looking for consistency midway through the elimination round. After establishing a three-game winning streak, the Green Paddlers failed to sustain their momentum. They finished the first round with losses against UST and Adamson.
Green Paddlers vs UP
Patrick Pasumbal defeated UP's Cagas in four sets, including a nerve-racking 20-18 Set 3 win. Team captain Tarak Cabrido continued to carry his team after hammering Lamayan, 11-9, 6-11, 11-5, 11-9. In the doubles match, Edhric Eder and Vince Remitio made quick work of UP's Lim and Ruelo, 11-9, 11-7, 11-8.
Green Paddlers vs UST
Later in the afternoon of Friday, the Green Paddlers faced UST, their Season 79 Finals tormentor. Contrary to his morning output, Pasumbal lost in straight sets, 4-11, 4-11, 3-11, to UST's Castro. But, Cabrido avenged the loss quickly with a four-set win against Sevilla, 11-6, 11-7, 4-11, 11-9, to keep the match tied. The España-based paddlers stepped on the gas in the third and fourth matches to win the game. Eder and Remitio received a straight set beating from Monares and Victorio, 8-11, 5-11, 10-12. Then, Daniel Ocon suffered another straight set defeat from UST's Que, 7-11, 9-11, 6-11.
Green Paddlers vs Adamson
The Green Paddlers' mindset was on bouncing back and finishing the first round on a high note. Rookie Josiah Espinosa did not fail to deliver. He gave an early lead to La Salle after holding down Adamson's Monforte in four sets, 11-6, 8-11, 13-11, 16-14. However, Cabrido faced an unfortunate five-set loss after falling short against Rarama, 11-8, 9-11, 11-7, 9-11, 8-11. The loss blemished Cabrido's untainted record in the first round. The pair of Eder and Remitio could not deliver and absorbed a four-set defeat from Balanquit and Coraza, 11-8, 7-11, 8-11, 8-11. Finally, Daniel Ocon as well picked up a wrong timing as he lost to Eneria, 11-5, 9-11, 8-11, 10-12. The Green Paddlers bowed to Adamson and tied them at third place with identical 4-3 records.