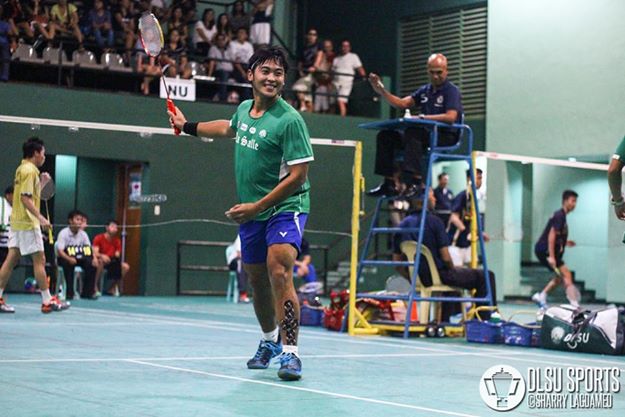 The Green Shuttlers marched on to their fifth straight victory by destroying UST, 5-0, in the UAAP Men's badminton tournament at the PSC badminton hall earlier today.
Shuttler Gerald Sibayan made a strong opening game demolishing UST's John Yabut in two sets, 21-14 and 21-18.  In the second singles match, John Monterubio continued the streak for La Salle outclassing Alacaed Sabanal in two fast sets, 21-8 and 21-15.
DLSU duo Anton Cayanan and Gerald Sibayan then outplayed UST pair John Reyes and Paul Pantig in the first men's doubles.  Cayanan and Sibayan took the first set, 21-14, but Reyes and Pantig staged an incredible comeback in the second set outscoring DLSU by seven 14-21.  With the score tied, Cayanan and Sibayan showed composure in the deciding match for the first men's doubles.  The Shuttler combo outplayed UST in the third set, 21-15.
The second doubles match featured Kenneth and Prince Monterubio of DLSU and Patrique Magnaye and John Sotea of UST.  The Monterubio brothers prevailed over Magnaye and Sotea in the first set of the game, 21-19.  In the second set, Magnaye and Sotea crushed the Monterubio siblings, 21-16.  The Shuttler pair showcased outstanding teamwork and agility to dominate Magnaye and Sotea in the final set, not letting them score double digits, 21-9.
Green Shuttlers' team captain EJ Boac sealed a shutout for La Salle by outlasting UST's Paul Pantig.  Boac grabbed the first set, 21-18, but lost the second set to Pantig.  In the third set Boac's powerful moves and smashes battered Pantig providing DLSU a 5-0 sweep against the Growling Tigers.
Coach Owen Lopez of the Green Shuttlers pointed out the things that his team needs to maintain in order to keep their clean record "Consistency, yun yung una kong sinasabi sa kanila.  Kailangan consistent sila and at the same time yung willingness to win nila pagdating sa court.  Yan dapat ang iniisip nila sa court."
They will look to spread the glorious run to six on Saturday, 9:00 AM against NU.