Football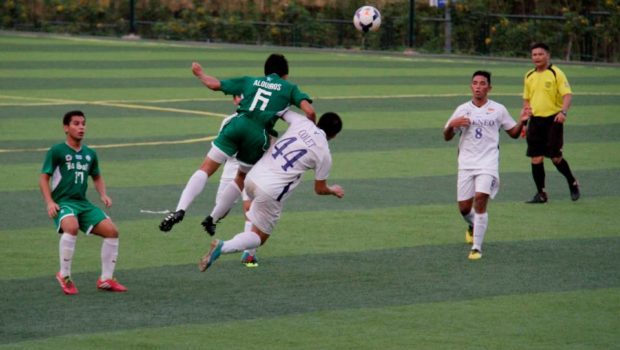 Published on January 13th, 2014 | by DLSU Sports
0
Undermanned Green Booters earn draw with struggling Ateneo
Despite missing key players, the Green Booters dominated the match against archrivals Ateneo but were unfortunate not to take maximum points following a thrilling 0-0 second round encounter in the ongoing UAAP Season 76 men's football tournament at Moro Lorenzo Field in Ateneo, Quezon City Sunday afternoon.
The result kept La Salle in third place with 13 points, just two points behind second-ranked UP who also defeated league-leading FEU 3-0 on the same day.
The visiting team had plenty of good chances but was betrayed by poor finishing down the attacking third. Ateneo, meanwhile, also racked up a number of good opportunities but were all quelled by the La Salle defense. Both goalkeepers had stellar outings as they went on to deny every attacking spell produced by either team.
Goal-scoring opportunities were well-scattered throughout the game but a terrific exchange late in the game almost brought one of the competing squads to victory. From just outside the box, Carl Amisola curled a shot wide that had Oracion outstretched in the 79th minute. On a counter-attack four minutes later, Mikko Mabanag almost drilled Ateneo ahead with a shooting chance from just inside 18 yards. Greggy Yang, Gerald Layumas and Jhoguev Ybanez were all there to make sure that the ball would not bother Joshua Cruz. Just a minute after, the Diamante brothers alongside Amisola were threatening to score the breakthrough goal and with the ball landing on Jojo Borromeo, the hosts' defense successfully cleared the impending danger.
Two minutes from time, Borromeo won a free-kick in a dangerous position. Yang's ensuing free kick has beaten Oracion but had just sailed a little over the crossbar. Ateneo then went on a quick counter with Yu Murayama winning the ball inside La Salle's half. Noticing the unmarked Acosta, Murayama slid the ball toward the former but Layumas was just in the right place to cut the pass and send the ball into La Salle's attacking third. Ateneo's Mabanag had another go at Cruz's goal but the La Salle number one recovered the ball after initially spilling it. Fortunately for him, there was no Blue Booter near where the ball went.
Substitute Jose Montelibano had a chance to lurk deep inside Ateneo's box but his lead pass was cut off by Ateneo. In the last minute, Mabanag's corner kick was gathered by Cruz and immediately sent the ball to skipper Gio Diamante, who was onside. The elder Diamante gained a couple of steps ahead of his marker before whipping a potential game-winner only for it to sail over the bar. That went on to be the game's last chance as the referee signalled the end of the game with neither team hitting the score sheet.
Coach Hans Smit was critical of his team's finishing in the game. Cruz followed up, "We all know that there's still room for improvement. Hopefully we get to the point that we do our best. We already know what to focus on but I think we need a little more time to work on it."
Crocked players Nate Alquiros, brothers Al and Sabin Bustamante, and Nace Gonzales were all missing due to injuries and given a day-to-day assessment of their problems, none of them are assured of playing the Green Booters' next game against UE on Thursday, January 16, 3:00 pm at the FEU-Diliman Field.