Basketball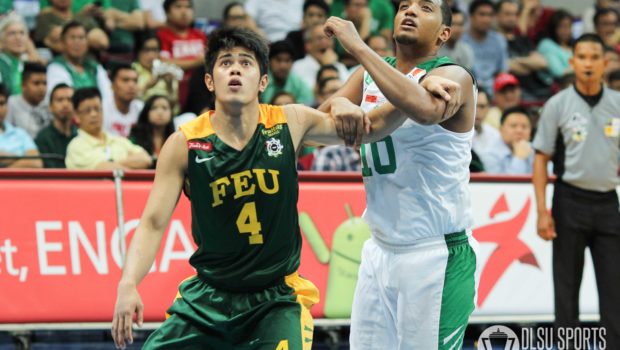 Published on July 24th, 2013 | by DLSU Sports
0
Untimely meltdown dooms La Salle in overtime loss against FEU
By David Escueta
They almost had it, but they couldn't close it out.
The Green Archers blew a 13-point lead with 2:30 left in regulation leading to a tough 84-79 overtime setback against the Far Eastern University Tamaraws last July 13 at the Mall of Asia Arena.
Jeron Teng had a double-double performance with 25 points and 15 rebounds while Arnold Van Opstal followed up with 20 points and 11 rebounds. Furthermore, Jason Perkins cashed in 10 points and grabbed 12 boards.
On the other hand, Terrence Romeo led the Tamaraws with 25 points and five assists while RR Garcia added 19 points and three assists.
Asked whether it was a major collapse in the part of the Green Archers, Coach Juno Sauler replied, "It was really a major collapse for us, we just have to learn how to close it out. We missed shots and they made it, that's basketball."
In the overtime period, Van Opstal opened the scoring for the Green Archers, making it 77-75, but RR Garcia countered back by scoring four straight points for FEU, giving the lead back to their side, 79-78. Teng had the chance to give DLSU an edge in the overtime period with 4 free throw attempts, but only made one.
The Green Archers had one last chance to even things up with 15 seconds to play, but the stingy defense from FEU derailed the Archers chances for winning leading to their 84-79 defeat. 
This loss gives La Salle a 2-2 record in standings, good for fifth place.
Thomas Torres scored four straight points to mark the start of the final quarter which were followed by two three point baskets from Almond Vosotros and Luigi De La Paz, blowing the game open for the Green Archers, 68-56 with over 5 minutes left in regulation.
La Salle was already nearing the finish line when they extended their lead to 13 with 2:38 left in the game but Romeo banked in two crucial three pointers to cut the lead to 9 with 2 minutes left to play. The Green Archers could not find an answer as they went scoreless in the last minutes as their big lead slowly vanished with timely baskets from the Tamaraws.
Vosotros had the chance to ice the game with two crucial free throws that would have extended the lead to four, but he failed to capitalize on both. This led to another lay up for Mark Belo which notched the game up at 75 apiece. With 12 seconds left, Teng had the chance to win it for DLSU, but his jumper near the paint failed to trickle in and the game was sent into overtime.
Up next for the Green Archers will be Roi Sumang and the University of the East Red Warriors this coming July 20, 2 pm, at the Mall of Asia Arena.
Scores:
DLSU (79) – Teng 25, Van Opstal 20, Perkins 10, De La Paz 9, Vosotros 8, T. Torres 4, Revilla 3, N. Torres 0, Tampus 0, Reyes 0, Montalbo 0, Bolick 0.
FEU (84) – Romeo 25, Garcia 19, Belo 10, Tolomia 9, Pogoy 9, Hargrove 4, Cruz 4, Mendoza 2, Jose 1, Sentcheu 0.
Quarter scores: 21-17, 34-35, 58-54, 75-75, 79-83.