Basketball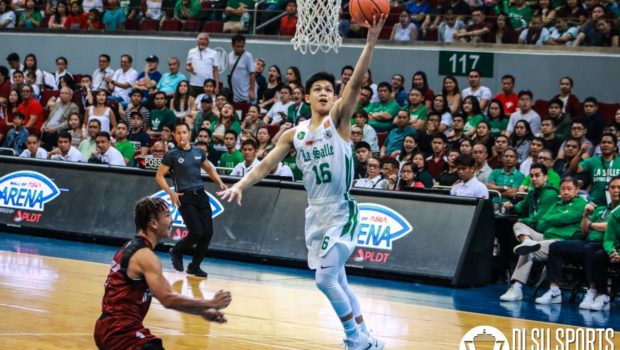 Published on September 30th, 2018 | by Jhenel Laus
0
UP's fight gets the best of the Green Archers
The De La Salle University (DLSU) Green Archers fell short brought by a late 4th quarter run by the University of the Philippines (UP) Fighting Maroons in the UAAP Season 81 Men's Basketball Tournament, 61-67, On Sunday, September 30, at the Mall of Asia Arena.
It was a seesaw battle for both teams as they exchanged baskets throughout the first period. Veteran Archers Baltazar, Santillan and Caracut are the only players who scored in the first quarter with 4 a-piece. The frame ended at 12-13, with La Salle trailing at the end of 1st quarter.
Aljun Melecio took charge for the Green and White, contributing 8 points in the quarter along with a buzzer beater three to end the first half. Fighting Maroon Desiderio fired back-to-back threes to answer the De La Salle run but it was a collaborative effort for La Salle with 5 of its players scored 21 points in total for the 2nd period. 33-29, DLSU ahead at the end of first half.
The UP Fighting Maroons was on fire entering the third period with Akhuetie and Juan Gomez De Liano leading the Maroons. It was a quarter meltdown for the Green Archers with the Fighting Maroons limiting the Archers to only 12 points in the whole third period. At the end of third, DLSU trails, 45-51.
It was an intense battle for both squads during the final 10 minutes of the game. The UP Fighting Maroons led by as much as 14 points in the first minutes of the 4th period but the Taft-based squad Veterans stepped up to fight and gave La Salle an 11-0 run to cut the deficit down to one, 60-61 with less than 3 minutes left. The Green Archers tried to tie the game but fell short after the final buzzer.
At the end of Regulation, the Green Archers fell short on late run, 61-67.
Baltazar led the Green Archers with 13 points and 10 rebounds while a combined 24 points for Melecio and Santillan contributed to the scoring load.
Meanwhile, Bright Akhuetie and Juan Gomez De Liano led the Fighting Maroons with 19 and 17 points, respectively.
The DLSU Green Archers will aim to bounce back on Wednesday, October 3 against the University of Santo Tomas at the Mall of Asia Arena.
BOX SCORES:
DLSU (61) – Baltazar 13, Melecio 12, Santillan 12, Caracut 9, Dyke 8, Go 5, Serrano 2,
UP (67) – Akhuetie 19, Ju Gomez de Liano 17, Desiderio 12, Ja Gomez de Liano 7, Manzo 6, Dario 2, Tungcab 2, Vito 2