Basketball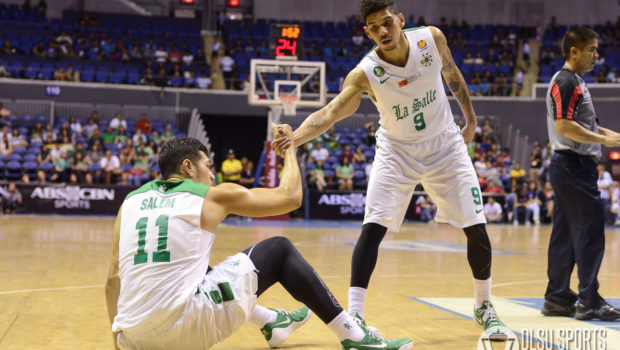 Published on August 2nd, 2014 | by Michiko Alejandro
0
Young guns spearhead Archers' charge for third straight win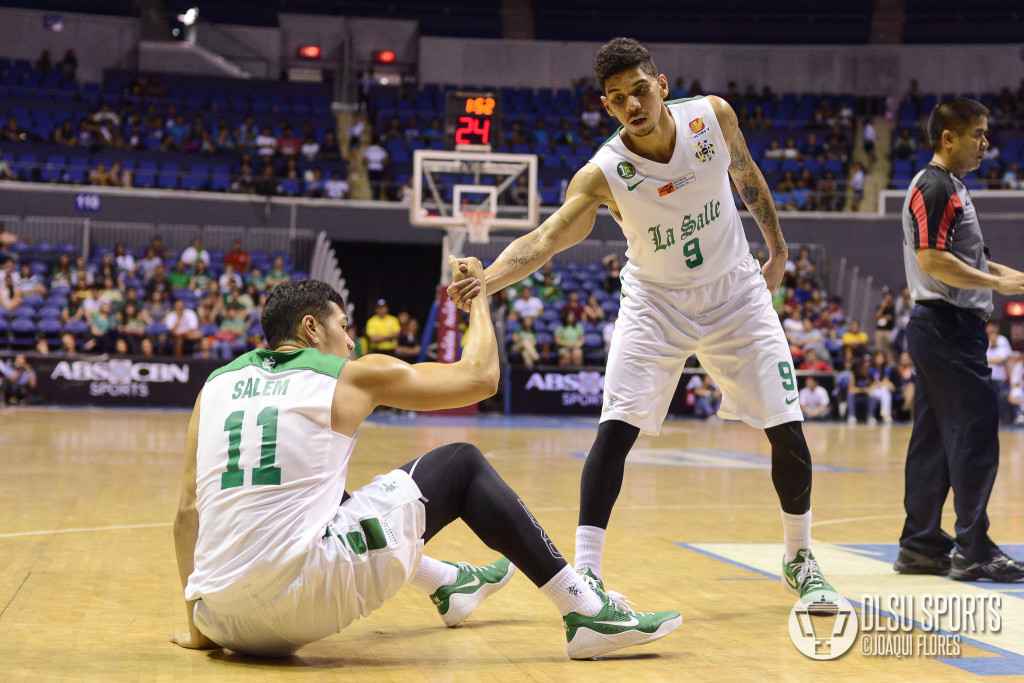 The Green Archers banked on their second unit to dispatch the Adamson University Falcons, 67-48, and in the process grab their third straight win at the Smart Araneta Coliseum. The win brings DLSU half-a-game behind Ateneo, FEU and UST who are all sharing the second spot.
Rising stars Kib Montalbo and Prince Rivero drilled 18 and 12 points, respectively while also combining for 11 rebounds and six assists. Adamson, on the other hand, banked on Jansen Rios and Axel Inigo who combined for 20 points.
"We should have played with more energy during the first half," remarked Coach Juno Sauler whose boys never trailed the game but were plagued with turnovers and poor execution in the opening stages. The boys overcame the struggle in the second half with Green-and-White's lead even extending to as much as 28 before playing less ruthlessly down the stretch.
La Salle controlled the game from the start by scoring the first four points of the game. The Falcons dared to keep pace, trimming the Archers' lead to one. Jason Perkins poured a quick four-point spurt to anchor the defending champions quite comfortably at 13-8.
During the second quarter, the Falcons tried to give a match to the Green Archers by striking 10 points, but the team struggled to blow the game with open. The DLSU advantage maintained a five-point cushion at the end of the half.
Throughout the game, the Green Archers took their best shots in every chance they can to continue the winning streak. In the middle of the third quarter, Montalbo and Rivero delivered huge shots to propel La Salle ahead by sixteen with only ten minutes left.
Montalbo, touted to step up in the absence of Thomas Torres, played a statement game against the Falcons. The young Bacolod point guard was 75% from the field and also made life more difficult for Adamson's backcourt to execute offensively. "Minsan lang ako makalaro ng ganito. Thank Coach for giving me the opportunity to play," shared the sophomore baller.
The Green Archers will be eyeing to collect their fourth straight victory against the winless yet dangerous UP Fighting Maroons. Their duel will be on Wednesday, 2:00 pm, at the Smart Araneta Coliseum.
Norbert Torres and Arnold van Opstal joined Thomas Torres on the injury list after picking up minor injuries in the ankle and Achilles' heel. The veteran frontcourt duo is on a day-to-day status and may not see action against the Fighting Maroons.
Box Scores:
DLSU (67) – Montalbo 18, Rivero 12, Sargent 8, Vosotros 8, Tratter 7, Andrada 6, Bolick 4, Teng 2, Perkins 2, Salem 0, Mustre 0.
AdU (48)  – Rios 11, Inigo 9, Monteclaro 9, Villanueva 8, Barrera 4, Ochoa 3, Aquino 2, Nalos 2, Pedrosa 0, Trollano 0.
Quarter scores: 13-8, 23-18, 45-29, 67-48.